Fun and accessible, arts and crafts workshops at St. Bartholomew's Church for just one day. Check it out.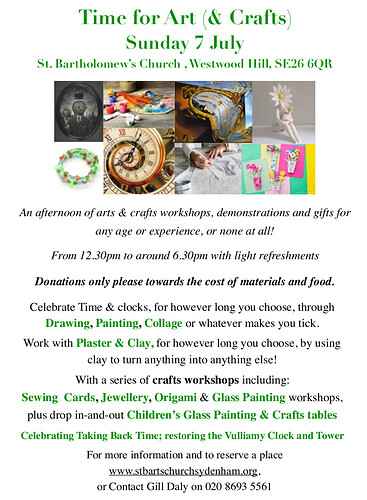 We've been asked if this afternoon is suitable for children. Absolutely suitable. Apart from the glass painting we also have colouring and making tables for them. And some of the 'adult' crafts are also suitable for older children. Food and drink on offer all afternoon as well so we are sure we can keep them amused.
I have been to some of these workshops and they were great fun. Jane S.
Michael Breese, renowned local artist and teacher is workshopping all afternoon! Drop in and out, do as little or as much as you like. No experience necessary but all experience welcome. Really one not to be missed!
All our artists and craftspeople are giving their time free of charge and are there for you whether you are experienced in their craft or have never done anything like it before. A wonderful way to try your hand at something. And we only ask you to make a donation - if you can - towards their material costs. Even the refreshments are for donation only. It doesn't get better than that!