I think it would be a 'good idea' if Lewisham Council asked for a borough-wide plan of where the 5G monopoles and cabinets are likely to be placed. Putting in applications for prior approval in a piecemeal manner seems a waste of time.
Presumably the idea is that the 5G monopoles link up to give coverage, so logically the applicants need to talk to the council about their plans and where they can best be sited (if at all).
I think the proposed monopole at Cobbs Corner is a case in point. This is a Conservation Area - the 1575310_LSM102_79879_SE0155_M001 Site Plans.pdf shows what an ugly out-of-character piece of street furniture the applicant is asking for, and expecting, Prior Approval.
Having seen two of these masts yesterday, one in the corner of Blackheath Cricket Club, the other on the corner outside the Shell Garage on Verdant Lane - they are very dominant and, frankly to my eye, extremely ugly.
Lewisham and Bromley councils are quite right in insisting on full planning applications especially for those planned for highly residential areas.
I haven't seen the mast myself but seen plenty of pictures. They are indeed eyesore especially if you think of having them right in the middle of residential area.
My neighbour and I have been campaigning last few days for objecting the proposal to erect one on Springfield Road (next to entrance of Sydenham Tennis Club) by knocking at everyone's door, as our dear Bromley Council failed to notify people living within 100 meters of the proposed location (even houses within 50 meters are 'hit and miss'). There is definitely insufficient time given on the neighbour consultation, especially nearby pre schools are closed at the moment due to summer holiday.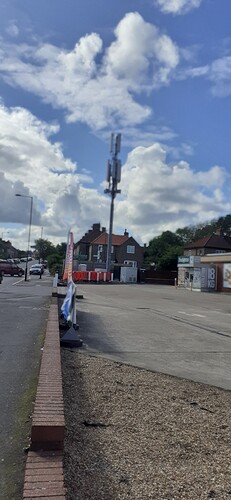 Here's the mast in all its 'glory', towering above the.Shell Petrol Station, and above the local residential properties. It shows the 'wrap around cabinets' discreetly inside the petrol station site. No harm done to Shell, probably due a fee for annual rental (I've heard a figure, but as I can't verify it, I cannot quote/surmise on a public platform.)
The one proposed for Cobbs Corner, Sydenham, is behind the BP Petrol Station… work that one out, similarly.
I think that those proposing 'Prior Approval' for these masts need to come clean about how this will affect our 'townscape', with full details and full scale drawings.
Meanwhile I think Lewisham Council, already concerned and have refused at least 2 'Prior Applications' should, I hope, already be in discussion with the applicants and asking for them to provide LBL (and residents) with their 'plans' for the area over the next 2 years.