anon3821395
29 Aug '18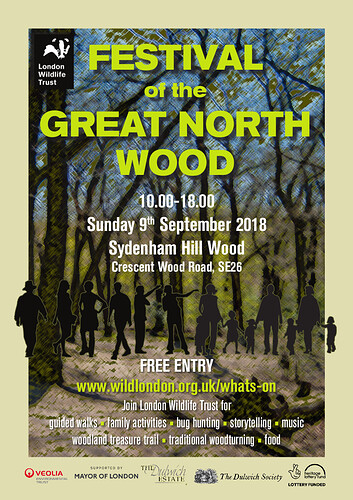 Via Sydenham Society:
London Wildlife Trust invite you to the Great North Wood Woodland Festival which will be held on Sunday 9 September at Sydenham Hill Wood (SE26) from 10am. As you know the festival forms part of the Great North Wood Living Landscapes project which aims to raise awareness of this largely forgotten woodland, encouraging people to explore, enjoy and value the natural wealth on their doorsteps.
You can find out more about the Great North Wood Living Landscapes project here.
Attractions at the festival will include:
Pond dipping, bug hunting, an open art activity and woodland treasure trail, storytelling, land art, and wood whittling for the children.
Guided walks and talks throughout the day on various subjects including a Great North Wood walk between local woodland sites including Hillcrest Wood, bird identification, general wildlife identification, and a history of Sydenham Hill Wood.
Traditional wood turning demonstrations.
Sydenham Hill Wood volunteer Tombola.
Refreshments by Henry's Coffee Bar and also locally produced cakes.
Information stands on the Great North Wood Living Landscapes Project, the Urban Urchins Project, and the London Wildlife Trust.
Local folk group Lark in the Woods will also be playing a set in the afternoon.
There will also be toilets available to use throughout the day.
Please look out for further information about the festival on the London Wildlife Trust what's on webpage here
The Great North Wood Living Landscapes project is funded by the Heritage Lottery Fund, Greater London Authority, The Dulwich Estate, The Dulwich Society, and Veolia Environmental Trust.