Archived on 6/5/2022
Mamma Dough [Under construction]

anon3821395
17 Apr '18
From the Lewisham Planning Portal 18/105882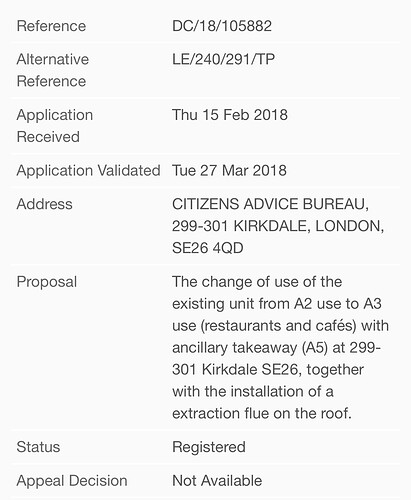 Update: confirmed below that this is an application from Mamma Dough (sourdough pizza chain)

RedSE26
17 Apr '18
Great news! I think a Mamma Dough would be good there!

Sgc
17 Apr '18
Mamma dough sounds excellent to me. But I thought this was where Nandos was going to open. Not sure if the old Bridal shop and CAB are linked or staying as two separate entities.



anon5749742
18 Apr '18
Really exciting, positive news.

JMLF
5 May '18
Visited HOP location a few times. Delicious delicious pizza. Bit like Bona in terms of type of pizza but with addition of more "exotic" options I would say from what I remember (I think exotic is a nice way of saying unique/odd/different - I don't mean everything has mango and pineapple on!)
Can't wait if this follows through and think KFH opening alongside the Nando's/mamma dough units (and refit/alterations to blue mountain/cobbs corner cafe) would really transform that area in terms of look/feel. The Greyhound alone has made such a difference already.

weepy
7 May '18
Is there a refit of the blue mountain?


weepy
7 May '18
There's hoarding up around both sites so looks like it's all going ahead

anon3821395
13 Sep '18
Amazing! Mamma Dough has been so good for Honor Oak and Ladywell. Can't wait to try the new branch!
Thanks for sharing



Vennerist
28 Nov '18
Great to see this coming along, albeit slowly. God speed Mamma Dough


NigelA
28 Nov '18
Don't want to sound like a 15 stone Negative Nancy but are all their pizzas made from sourdough ? I'm a bit sick of sourdough bread, if it's not sourdough only then I fully welcome it .
Used to rate Rafaello's pizza but it's been a bit under what it was lately so will try Mamma Dough .

Vennerist
29 Nov '18
Yes they are but taste-wise they don't have much in common with sourdough bread. I have eaten at the Ladywell Mamma Dough a couple
of times. The pizza bases don't taste sour and they don't have a tough spongy interior like sourdough bread. They are thin, cooked to near char, crisp and absolutely delicious.
Mamma Dough is going to be great for Sydenham mark my words.

JMLF
30 Nov '18
100% agreed! Personally love their pizza but regardless, it offers something different for the area, is another family friendly venue and/or venue for younger people to go to and fills a vacant space. Can't get much better than that!

Cormac
4 Jan '19
A decent pizza joint is badly needed. Can't wait for this to open. I work near the brixton one and it's really good nosebag