Barry_Milton
1 Feb '18
St Christopher's
Concert
St Christopher's Hospice
51-59 Lawrie Park Road SE26 6DZ
£10 including interval canapes and wine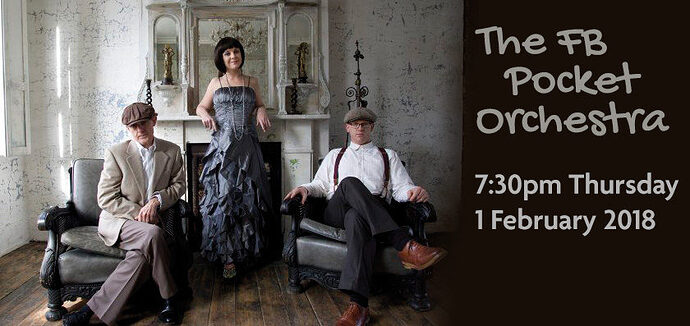 The FB Pocket Orchestra was formed in 2012 by Paul Stevenson, Jenny Russell and Ollie Corbin after a cancelled recording project created some free studio time.
Their self-imposed brief was simply to explore the popular music repertoire of the early 20th century. They feel that much of the detail and inherent beauty of this repertoire lies in the subtle interaction of more traditional instruments and they've broadened their instrumental scope to include banjo, cornet, harmonica, accordion, tuba, clarinet and violin.
Ranging from 1900 to 1930 they offer up sonic landscapes that hint at New Orleans, tea dances, Paris cafes and smoky nightclubs.