SydenhamArts
7 Jun '21
We're Back!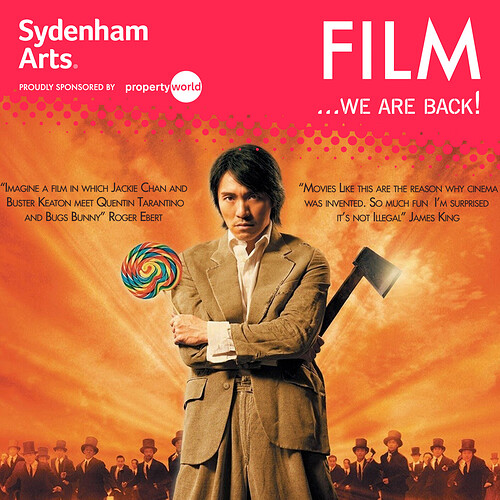 After a tough year for all you lovers of film, the big screen is back, and our film screenings kick off this summer with two cracking comedy masterpieces!
July's screening is Stephen Chow's hilarious Kung Fu Hustle (2004). The director and writer of Shaolin Soccer (2001) brings us another hilarious satire of the Kung Fu genre with himself as the lead actor.
Sing (Stephen Chow) a wannabe gangster wanting to join the notorious "Axe Gang" gets in too deep, and turns to his local neighbourhood for help in protecting their turf, only to discover some of the residents hold some pretty special Kung Fu skills!
This Bafta and Golden Globe nominee is a true cinematic treat rarely seen on the big screen. Don't miss your chance to see it in all its off-the-wall glory!
All our film screenings have been adapted to follow the very latest government guidance on Covid-19 safety, and as new announcements are made we will ensure you are kept up to date with the latest guidance for attending our screenings.
Please respect others and maintain social distancing wherever possible. Unless current advice changes, we will still be operating track and trace within the venue, so please be prepared to check-in via the app or leave your contact details with our box office staff upon arrival.
Tickets £7
Film screenings take place at The Grove Centre. Doors open 7pm, Film Screening starts 7.30pm.
Refreshments are available at the venue.