jrw
23 Oct '20
More fun for Fairlawn……
The construction phase of the new Winchfield Road social housing is going to be difficult for Fairlawn Park residents. The entire site traffic, in both directions, is to be routed through FP. It's good that their route avoids increased traffic around Haseltine School, but there are implications for OLSPN. Winchfield Road is their designated drop off point, and a recommended walking route.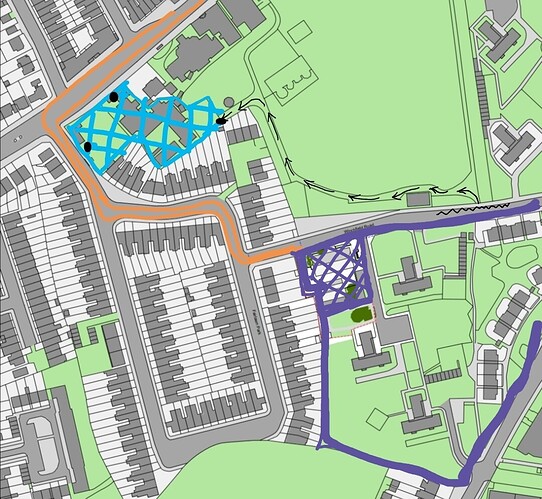 [Cross hatched blue: OLSPN new buildings. Orange lines: site traffic route. Black dots: school access points. Purple boundary, Home Park Estate boundary. Purple crosshatching: redevelopment site.]
I should say that neither school's needs were mentioned, & the Haseltine route's 90% turns around the school may have accidentally protected it. There will be enforced parking restrictions along Winchfield Road, and other measures, not yet specified. Information given about the scale of traffic loads includes:
"There will be a requirement for a variety of vehicles and contractor's equipment, including cranes (350 Tonne max), to attend the site; removing spoil & materials from the groundwork operations and delivery vehicles, including concrete lorries & couriers.
The demolition phase will be planned separately but is also expected to be a reasonably busy period of site traffic flow. Overall we have identified three construction-related vehicle "busy" periods: substructure/foundation activities, module installation and the demolition phase.
Substructures - 12 week period.
An average of 1 ready-mix concrete (8-wheeler) vehicle per day, but potentially rising to two vehicles at peak.
Modular unit installation - 10 week period.
An average of 6 extended/abnormal articulated vehicle deliveries (refer to vehicle plot & Modular Movements' Transport Survey, attached) per day at peak arriving overnight.
Demolition - 8 week period.
An average of 1 Muckaway (8-wheeler 20 tonne) vehicle per day. General deliveries will be on average 2 7.5 tonne flatbed, or Luton van-type vehicles per working day."
………
"For the module delivery operations, when a large mobile crane, anticipated to be 350 Tonne, and a number of large lorries will be required to access site, a specialist traffic management company (Modular Movements) will be employed to implement a full scheme of traffic management measures (including any parking suspensions, temporary bollard/pedestrian barrier removal and if necessary, road closure(s)). This will be in accordance with all local authority and Lewisham Council Highways requirements.
…
3. Parking
Contractor parking on site will be limited due to the confined nature of the construction site. All subcontractors will be advised of this in advance and the induction will include the need to ensure vehicles are parked legally and with due consideration for local residents on Durleigh
Road." [I'm not sure if this is a typo, or if the whole section is from another document. Shambolic.]
" Staff parking during phases three, four and five has been identified as an issue, and will require the development of a temporary parking plan. Caledonian Modular Ltd are working on a joint strategy for this, which will necessitate remote staff parking, or the partial use of the on-site area, during these latter stages. This is currently a work in progress."
…
It is hard for me to be confident about details, as the document is a patchwork of details from random projects. To give you a flavour of it, my favourite bits include:
"Due allowance and consideration will be made for the Bridgwater traditional fair and carnival
season at autumn time…"
and: "The new build of Home Park Residential, is located at Winchfield Road, ……. Caledonian Modular Ltd (CML) are constructing a modular and hybrid three-storey school …"
On asking planning for accurate information, I got this response:
"Thank you for your message. Planning conditions are valid on receipt and we do not generally undertake consultation for this type of application. The plan will be assessed by officers. If the submission meets policy requirements it will be approved. If the level of information provided isn't sufficient or the plans doesn't meet with policy requirements, officers will either request revision or refuse the discharge of condition."
Make of that what you will…
Full details at:
DC/20/118522
3D_-HOME_PARK_RESIDENTIAL_E0087-_TRAFFIC_MANAGEMENT_PLAN90973040000.PDF-931321.pdf