SE26.life
9 Jun '20
Visual Arts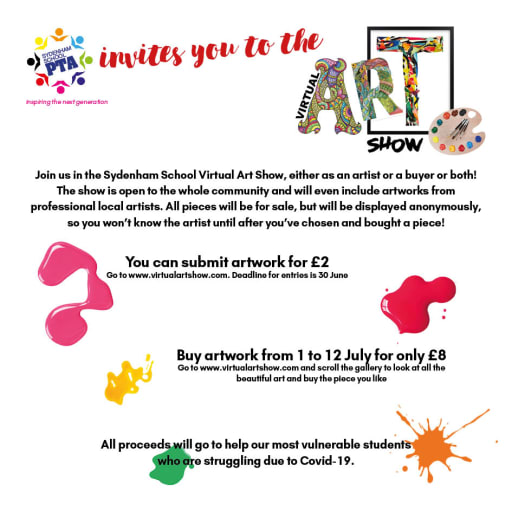 Sydenham School Virtual Art Show
We are hugely proud of the vibrant and exciting Arts curriculum we offer at Sydenham School, which supports our young people to develop their skills, confidence and imagination. Join us in celebrating their creativity with the first-ever Sydenham School Virtual Art Show, which we hope will raise funds for our most vulnerable students and bring us all together in these difficult times.
The Virtual Art Show is open to students, parents and carers, teachers, friends, neighbours – and professional local artists. We would be delighted if you would consider donating an A4/A5-sized artwork, in any medium, to be included in our virtual gallery at virtualartshow.co.uk. (The website is available to look at now.) All artworks will be displayed anonymously and available to buy for £8 each. We anticipate that people will leap at the chance not only to buy an artwork that might be by a professional but also to share online gallery space with established local artists.
All proceeds will go towards supporting Sydenham School students facing financial hardship as a result of Covid-19. The PTA has already raised more than £10,000 for students in need through a Donate My School campaign at https://donatemyschool.com/sydenhamschoolpta2170. With this money, we were able to provide laptops and data packages to students who were unable to access their online learning. Further funds are now needed to upgrade computers that are too old or incompatible with our online servers, boost wifi service and buy additional computers for households where students have limited access because they share with parents or siblings. Funds raised from the Virtual Art Show will also go towards buying art packs for the many students who can't afford basic art materials, such as cartridge paper, pens, pencils and acrylic paints.
The deadline for online submissions is 30 June. Artworks must be delivered to Sydenham School (or collected by a member of the PTA) on 13 or 14 July. Please contact us to find out more.
We really hope that you will join our Virtual Art Show and look forward to hearing from you.
Kind regards,
Caia Henderson
Curriculum Leader for Visual Arts
Sydenham School