Archived on 6/5/2022
Pavement Parking on Kirkdale

Twitter
9 Nov '19
Reported recently on Twitter:

marymck
11 Nov '19
Please see the chain on SE23.Life too. More pix there of Kirkdale pavement parking. Reg numbers clearly visible, with some repeat offenders.

SE23.life
14 Nov '19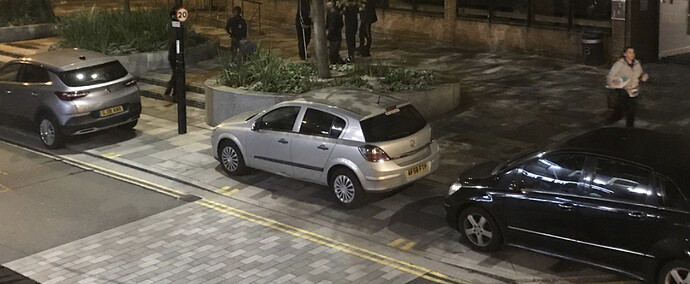 Update from Cllr Leo Gibbons, posted a moment ago on SE23.life: /CC @marymck

marymck
14 Nov '19
Thanks very much @Leo Gibbons and @CllrDavis . Much appreciated that you've visited Kirkdale.
I think it would be great to have planters or even planted borders along the pavement edge between Halifax Street and Fransfield Grove. We could incorporate a bench and make the street scene very pretty. Maybe even a permanent living Christmas tree of a variety that wouldn't grow too wide in years to come. No one's going to drive over that to park!
That approach would mean we can keep the Victorian granite kerb stones, with their mysterious markings. The dropped kerb section is the remnant of an access to the rear yard of a building that stood on the site once upon a time (photo of this is on SE23Life). CostCutter/Malibu House was built where that building once stood and the dropped kerb hasn't served any purpose for decades.
I believe some of the shops do or did have rear access, but a some of them have built or converted to residential on the back of their properties. The Woodman had its own stables and parking, but a house was built over it and most of the pub converted to residential. Unlike some of the shops, the Woodman has no curtilage to the front.
@Leo @Sophie Did you get a chance to look at/consider the derelict Willow Way depot as a future shoppers' car park?

HamishJ
15 Nov '19
Glad to see involvement from officials but, to be frank, miffed at exclusion of Cheseman Street in the findings. Not least as we have raised and debated with the council, only to be repeatedly rebutted due to no funds. We have severe pavement, parking and related safety issues.
Sydenham High's drop off pick ups are beyond belief in terms of impact on our street. Yet we are told they are regularly patrolled and managed - poppycock.
Our pavement, we've only really got one, is in dire need of repair but we are told there were no funds. Guess we can take solace marvelling at the swathes of new paving all around us. When they are not covered in illegally parked cars of course.
Another issue is the speeding in Dartmouth Road. It is quite horrific at times and with the various school, library and pool visitors, often children, at risk, this is an urgent and extremely dangerous oversight. By the time the speeds heading west hit (no pun intended) the Bricklayers they are often hitting 50/60 mph.
If funds are needed to repair then clampdown on the illegal parking and wanton speeding. My opinion is that significant sums would be raised in a surprisingly short time.
Fringe benefits would include environmental improvement, public health improvement oh and the small matter of safety of citizens.