SydenhamArts
14 Aug '19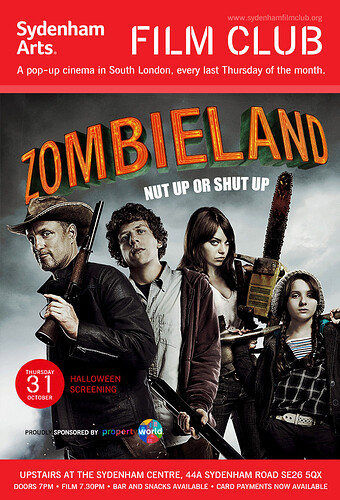 What better way to spend Halloween by coming to watch this post-apocalyptic horror zombie comedy film!
Directed by Ruben Fleischer and starring Jesse Eisenberg, Emma Stone & Woody Harrelson.
Searching for family. In the early twenty-first century, zombies have taken over America. A shy and inexperienced college student in Texas has survived by following his 30 rules: such as "look in the back seat," "double-tap," "avoid public restrooms." He decides to travel to Ohio to see if his parents are alive. He gets a ride with a boisterous zombie-hating good-old boy headed for Florida, and soon they confront a young woman whose sister has been bitten by a zombie and wants to be put out of her misery. The sisters were headed to an LA amusement park they've heard is zombie free. Can the kid from Ohio get to his family? And what about rule thirty one?
Certificate 15 Adventure, Comedy, Horror, Sci-fi. Running time 88 mins
Doors open at 7pm. Licenced bar and food provided by Eli & Pie.