Archived on 6/5/2022
Sydenham Artists Trail 2019



SydenhamSociety
3 Jul '19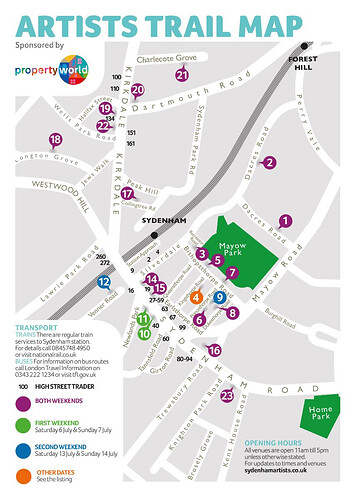 Download the brochure here:
Astonishingly, 2019 is the year of the 11th Sydenham Artists Trail and the team have been hard at work. This year they will be showcasing the work of nearly 200 artists in 23 venues – with many artists new to the Sydenham scene. We wish to thank the generosity of our sponsors Dan and Richard Crowley of PropertyWorld, those who open their homes, school, shops, studios and the many volunteers who give their time plus those of you who visit, talk to the artists and buy their work.
Enjoy this year's trail and discover some of the newer venues, including the fantastic atrium at Forest Hill School. This superb space will host a galaxy of talented practitioners, including the school's GCSE artwork.
"The wonderful thing about art in all its varied styles is that it can bring people together and we can admire the artistic effort that goes into creating it. We hope to meet as many
of you as possible on the trail during the first two weekends in July."
Artists Trail Team