SydenhamArts
25 Jun '19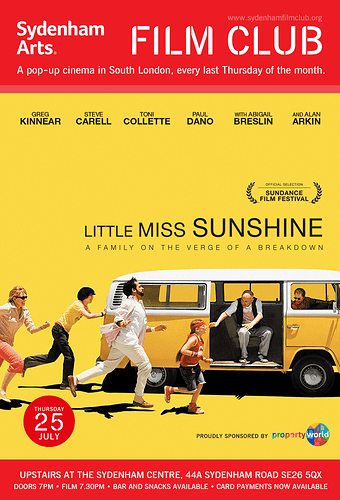 We bring this season to a close with this quirky, generous comedy that follows this family of 5, consisting of mum, dad, grandfather, teenage son, uncle and a determined daughter, Olive. Described as wildly dysfunctional, they embark on a interstate road trip across America to a beauty pageant that their young daughter is eager to win, The Little Miss Sunshine contest.
This film is supported by a very strong cast who makes each character their own with their individual personalities and unique behaviour. They will stop at nothing to make sure that Olive gets to the pageant on time.
This dramatic comedy has won many awards, including the 2007 BAFTA for Best Original Screenplay & Best Actor in a Supporting Role, as well as two oscars in 2007 for Best Writing, Original Screenplay & Best Performance by an Actor in a Supporting Role.
Doors open at 7 p.m… Licenced bar and food provided by Eli & Pie.