Archived on 6/5/2022
Mamma Dough [Open for Collection / Deliveroo]


Tia
6 Feb '19
It was a pleasure to be invited to the opening of Mama Dough Pizza

lovely food very friendly staff and great atmosphere thanks

will be visiting again. Wishing you all the best in your new branch. # UR-ID

MichMich
12 Feb '19
Amazeballs! Try the Nutella Calzone!

Vennerist
13 Feb '19
Mamma Dough have delivered the goods with this new branch. Like the Ladywell outlet, it's a polished and stylish affair (more so than Honor Oak) and the staff are excellent.

anon3821395
1 Mar '19
Great to see! Best of luck Mamma Dough!

Cormac
1 Mar '19
Hey guys, I absolutely love Mamma Dough Brixton. I go regularly with work. I've tried the Sydenham one twice now and it's just not up to the same standard unfortunately. I can't quite put my finger on it so I'm sure I'll try again in the hope that it improves, quality of the pizza just doesn't seem on the same level. I've had a few others I've recommended the place to also say they were unimpressed also. Hope it picks up.


HamishJ
11 Mar '19
We visited on Saturday. Welcome, service, pizzas and cost all good.
As a group we were unsure whether it beats our current local vave BoNA.
Jury out although the amazing Nutella Calzone certainly didn't do their chances any harm. Unlike my waist line.
We tried the special 'New Yorker' then from the menu: 'Margherita', 'The Devil' & 'John O'Goat'. Followed by the amazing Nutella dessert.

anon3821395
11 Mar '19
I remember that from Mamma Dough in Honor Oak - and it's awesome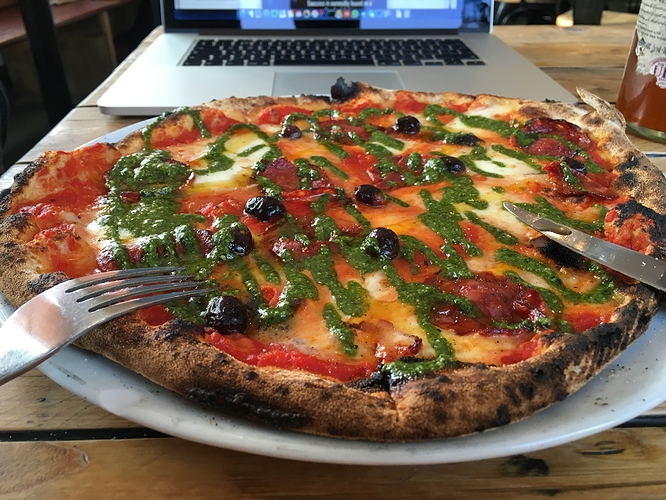 MichMich
15 Apr '19
Congrats Mammas! Featured in Vogue!